---
---
The Distillery
Concentrate on what matters most

Values
---
In everything we do, we stick to the following cornerstones which have emerged as the most important for us in recent years. Although most of it sounds self-explanatory, we wrote down our thoughts on the individual points.
Product variety
Our range never gets boring and everyone will find their own personal spirit of choice, whether hip (e.g. gin) or more traditional (e.g. whiskey, fine brandies). Due to our broad interests and curiosity, we were able to build up expertise on the entire variety of spirits and are able to produce many different products in our own distillery.
Concentrate on what matters most
It has always been important to us to focus primarily on what goes IN the bottle and not what appears ON the bottle. We do not compromise on the quality of our raw materials, the recipe, the distilling process, the maturation or the filling process. However, where we deliberately make compromises, is on everything else. We do not have the most eye-catching bottle, we do not buy the most exclusive labels, and we also buy more clever and efficient seals than spectacular ones. As with such a wide range of products as we have, we have to be careful not to get bogged down. That is why we try to use many individual parts for as many products as possible. Everything else results in more costs and thus increases the price for everyone. Since we offer top products at fair prices, we consciously forego many things that have no direct impact on the content of our bottles. The same applies to advertising. We do not use conventional advertising: no advertising in magazines, no poster advertising, no radio advertising (we aren't allowed anyway) and no paid ads on Facebook and Instagram. We would also have to show these costs in our prices and we do not want that. The best advertising is an honest recommendation from a satisfied customer. So if you are completely satisfied with our products, feel free to tell others - so together we can ensure that we continue to do what we do without classic advertising.
Moments of pleasure
We don't go to bars and discos very often. So why should we create products that are primarily designed for bars?
We consciously create our spirits for your moment of enjoyment where it can be a little more "intimate" than in the crowded scene of a bar. We think of the moment of pleasure in a noble hotel after an excellent dinner with your partner. Or at home once you've made yourself comfortable on the couch after a long and tiring day at work. Or at a classic girls' evening in a feel-good outfit with in-depth discussions about God and the world. Or after you went up the mountain in the heat of midsummer and often asked yourself why you were doing this to yourself, but afterwards you were happy to have made it and you realise how good it actually feels. These are the moments of pleasure that we would like to enrich with our products and therefore it is our aim that everyone can find their personal favourite in our range. It should also be easy. It doesn't matter if you don't have a lemon, cucumber, or exotic tonic at home. The drink should taste great without many frills. It should do you good and give you a short break from everyday life.
Know-How
We really know a lot and yet we are not omniscient. Not even in our field. But we want to be. We want to be the ones who can tell you everything about alcohol production, raw materials, chemical processes, storage and everything else that goes with it, but in such a way that it is understandable for everyone. We want to be even more transparent with our manufacturing methods and recipes so that you know exactly what you are actually consuming.
Quality
You may be wondering why we mention quality last. We also discussed this for a long time. On the one hand, this is because the word quality is used very carelessly; or do you know a single company that does not advertise to deliver excellent, special, good, excellent or any other quality? We dealt very closely with the subject of quality and found that the concept of quality in spirits is not so easy to define, or that everyone understands it differently. In addition, "quality" and "premium" are often mixed up with each other. If we could just say that we produce high quality products, someone might see it differently and become disappointed if it doesn't achieve their definition of high quality standards. And last but not least, quality - at least as we define it for ourselves - is a matter of course:
Of course, we will continue to submit our products to tastings and share the results with you.
Of course, we continue to use dessert fruits instead of windfalls for our fine brandies.
Of course, we separate too much head and tail, rather than too little.
Of course, we continue to produce our gin in the expected flavour intensity.
Of course, we continue to avoid sugar and flavours in our products wherever possible.
For us, quality is the intensity of taste despite the absence of sugar, flavours and colours. This requires aromatically excellent starting products, know-how and time.
---
The Team
---
In 2017 we expanded our experienced team of two for the first time. In addition to the two of us, 5 employees have since joined. At some point we realised that due to growth, we could hardly devote ourselves to our core competencies and decided to hire people. From the very beginning, it was important to us to put together a harmonious team, in which everyone can take care of the things for which they are best suited, so that we can do what we do best ourselves.
---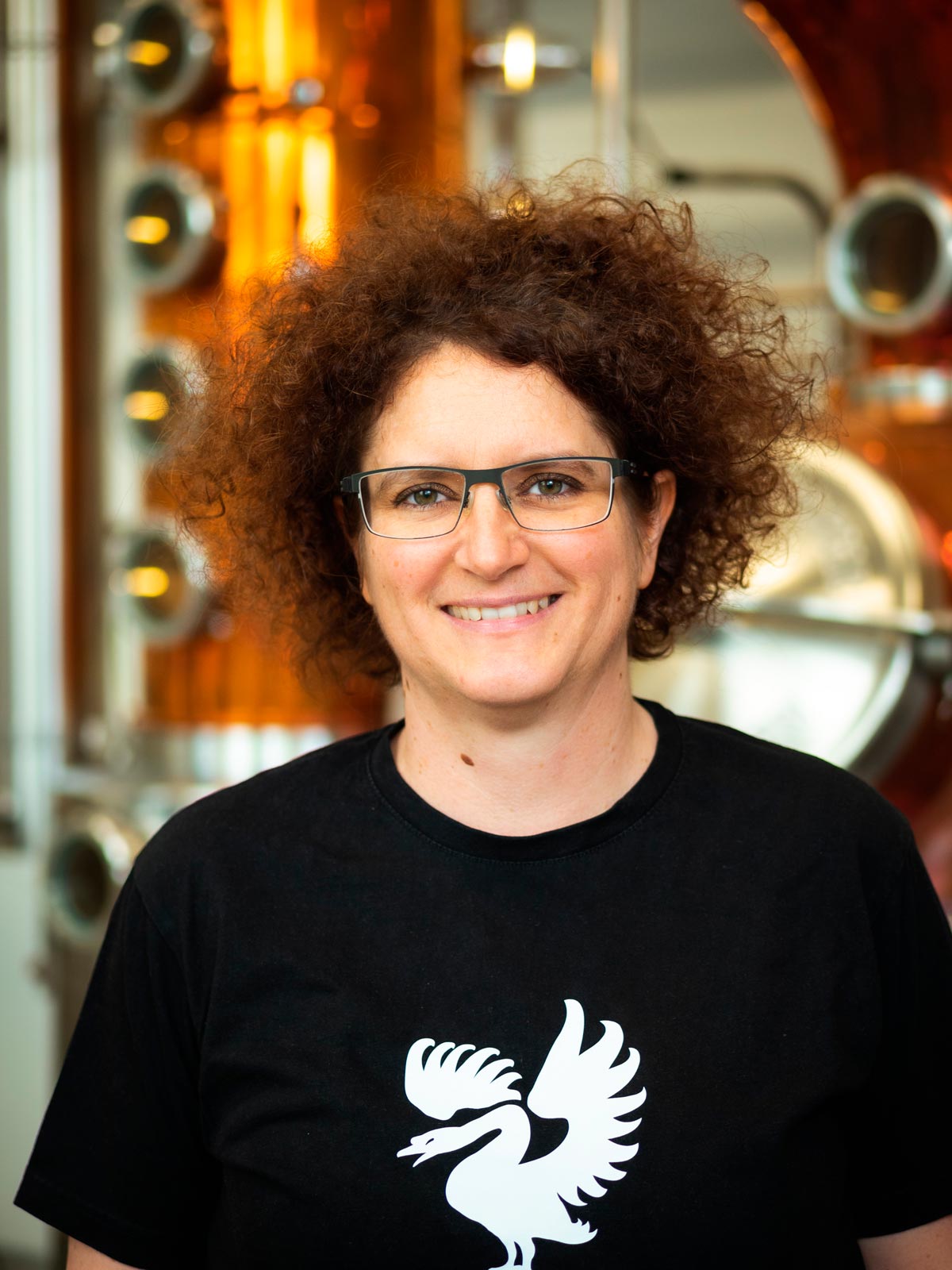 DI Dr. Carmen Krauss
CEO, Owner & Founder
---
+43 3465 20 800 12
office@distillery-krauss.com
Carmen is our CEO and the one who has everything in view. She is responsible for staff management, purchasing, tasting sessions and all customs matters. She also carries out almost all of the tastings herself and regularly shines with her creative ideas for marketing.
Favourite drink: Cider brandy and Vermouth 700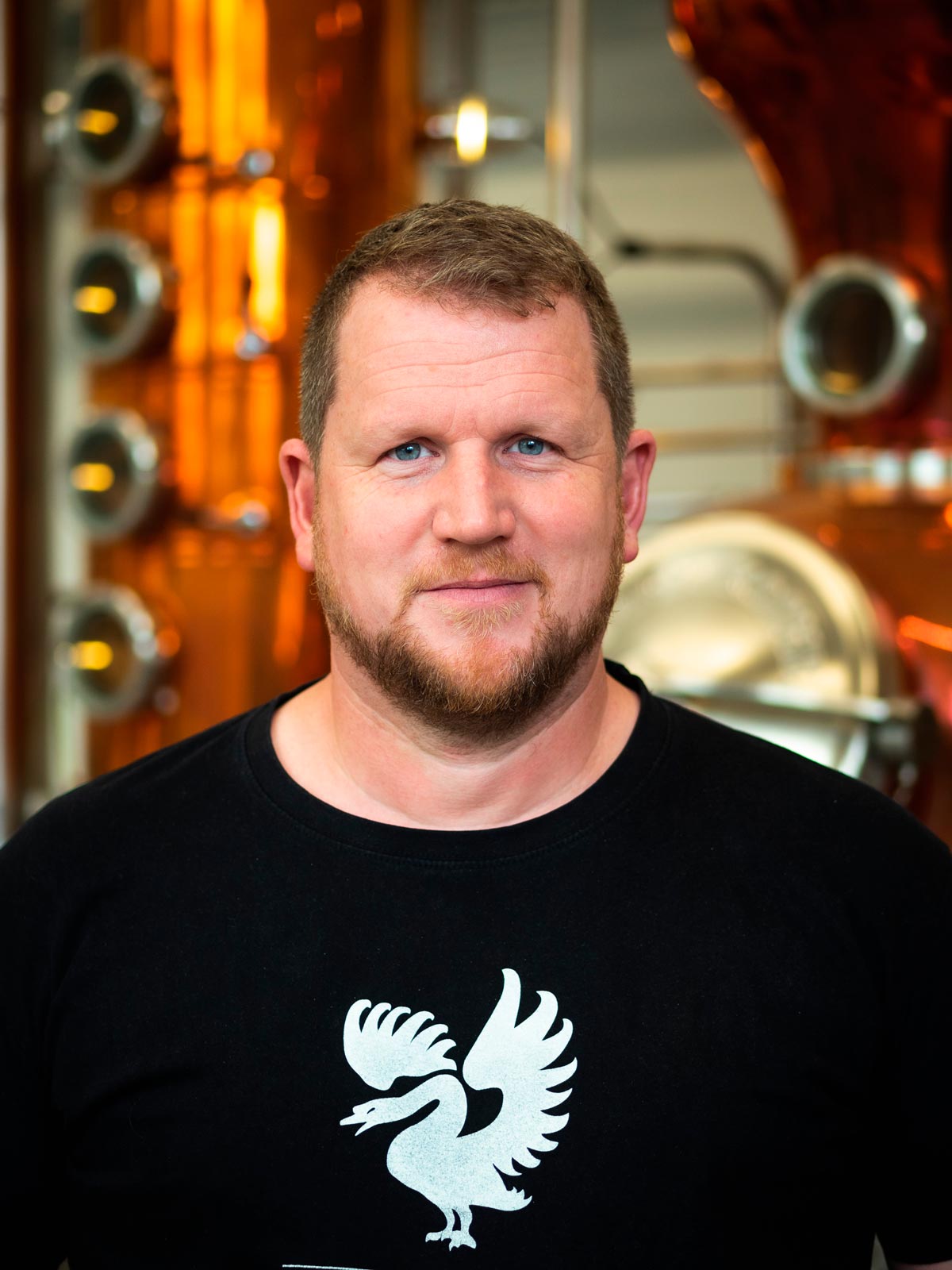 DI Dr. Werner Krauss
CTO, Owner & Founder
---
+43 3465 20 800
office@distillery-krauss.com
Werner is our Master Distiller and is responsible for the design of the range and the product calculations. He has a knack for new trends and is constantly convincing us with his innovative product ideas. His senses and creativity are one of the most important cornerstones for the outstanding quality of our products.
Favourite drink: Whiskey and Rum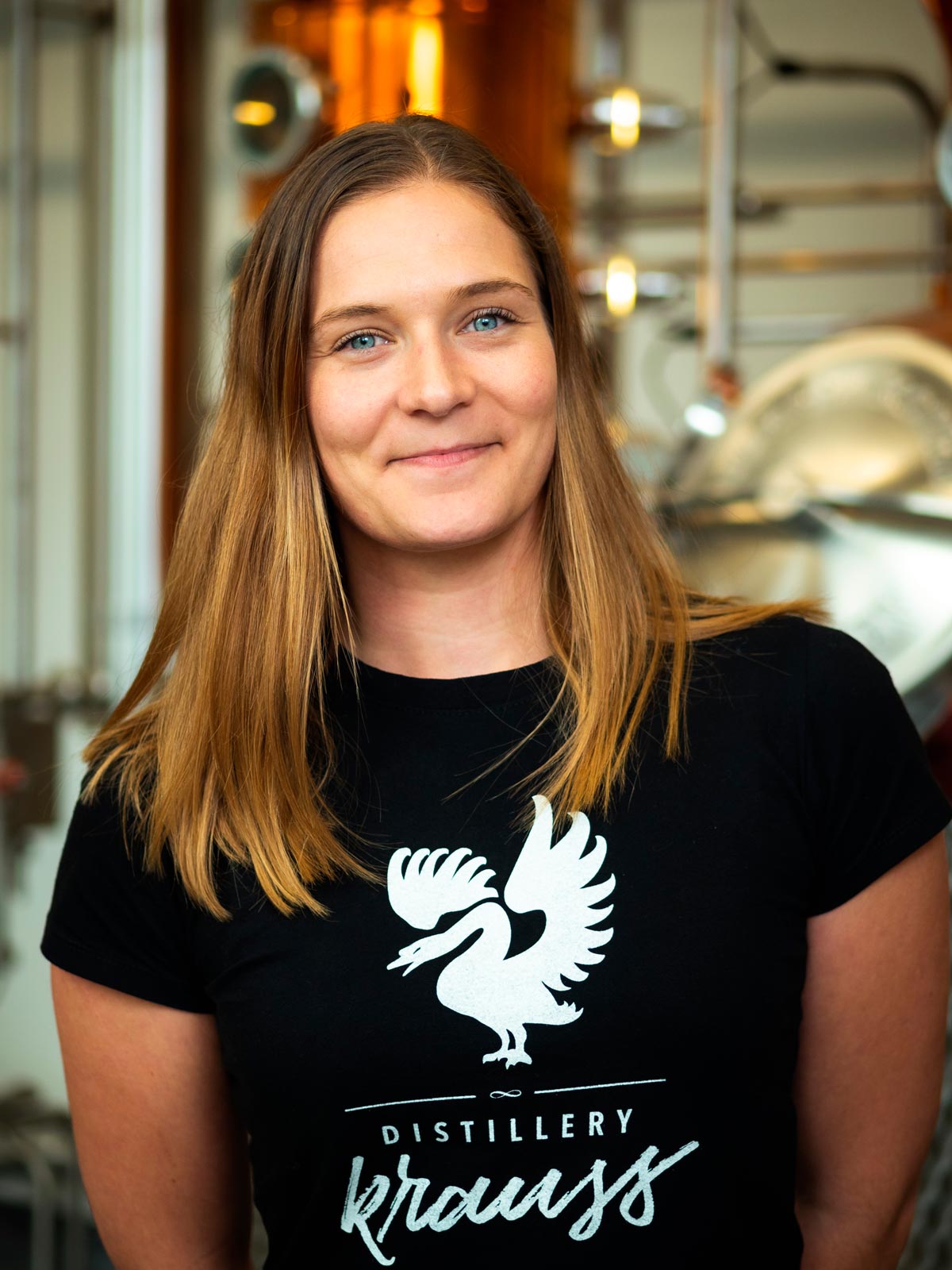 Bettina Sturmann, MA, MBA
CFO
---
+43 664 8890 8651
Bettina.sturmann@distillery-krauss.com
Bettina has been responsible for marketing and above all for the development of international sales since June 2018, thanks in part to her experiences abroad. She was also responsible for the introduction of SAP, organises many events and trade fairs, and oversees our tastings, also outside of the distillery.
Favourite drink: G+ Flower Edition with Thomas Henry Cherry Blossom Tonic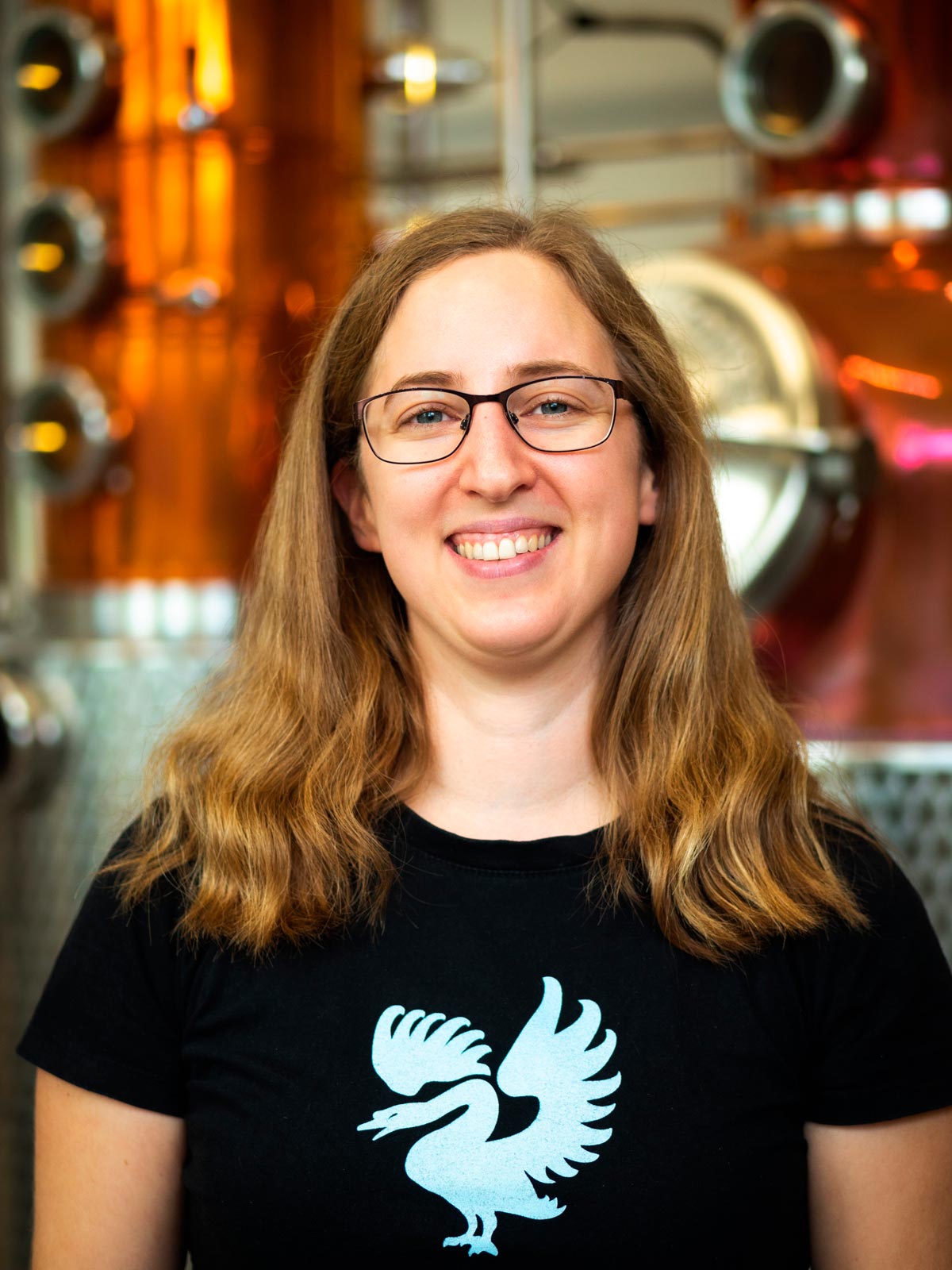 Laura Merkač
Production Manager
---
+43 3465 20 800 14
brennerei@distillery-krauss.com
Laura has been responsible for the organisation of the entire distillery since May 2018. She handles all production steps, from mashing up to filling and storing. She completed an apprenticeship as a distiller at the Franz Bauer distillery, where she was trained by Werner.
Favourite drink: Strong Spirit Peach Brandy and G+ Oak Cask Edition with Ginger Ale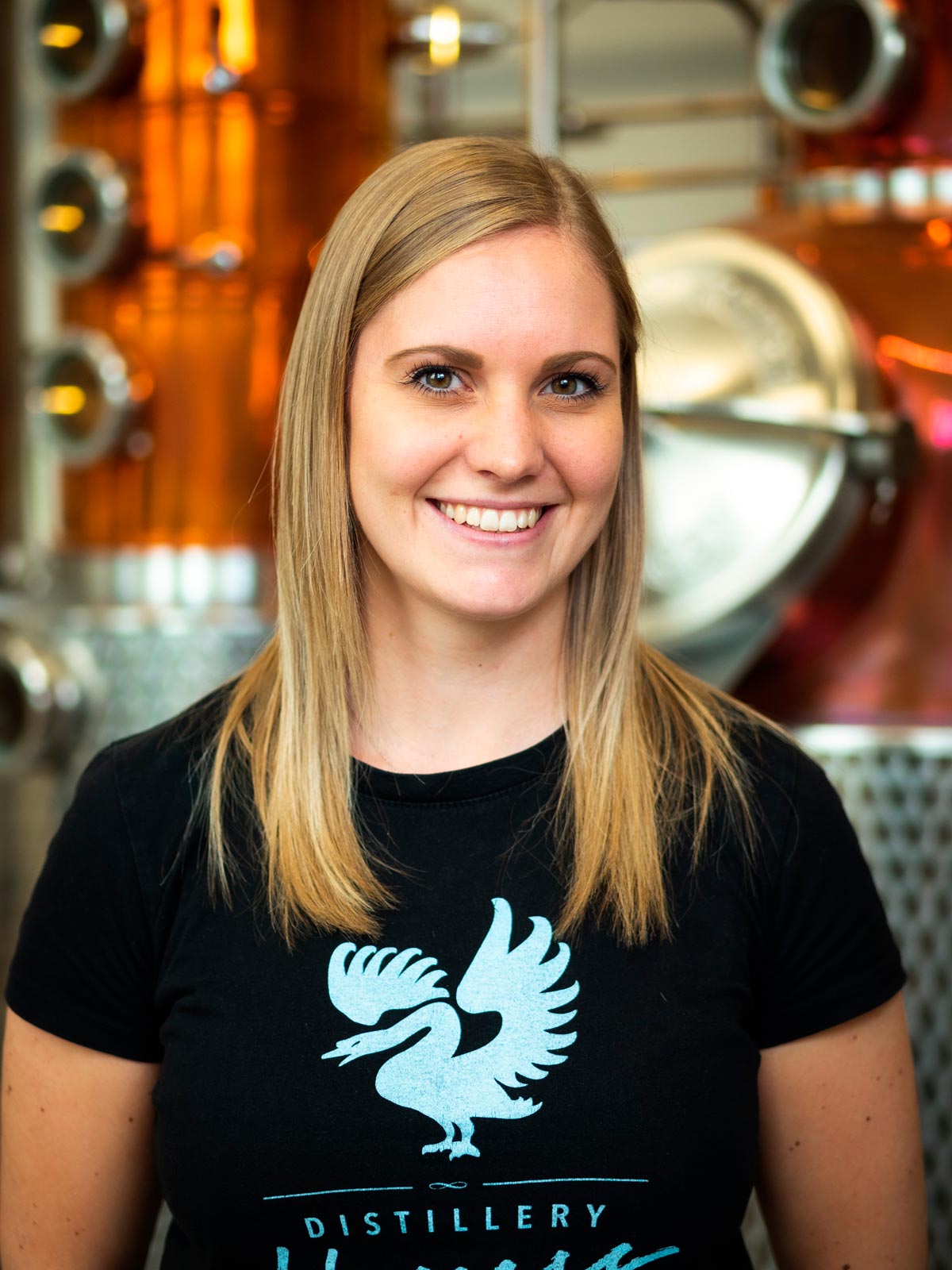 Sabrina Knappitsch, BSc
Quality Management
---
+43 3465 20 800 14
qm@distillery-krauss.com
Sabrina has a degree in sustainable food management and has already completed many different internships in food companies. She has been responsible for quality management at Distillery Krauss since February 2018. She writes instructions for compliance with applicable regulations, ensures that these are also complied with (e.g. filling quantities, regulations for labelling, etc.) and implements our IFS certification. Whenever necessary, she also tackles problems directly and helps in the distillery.
Favourite drink: G+ Lemon Edition with Bitter Lemon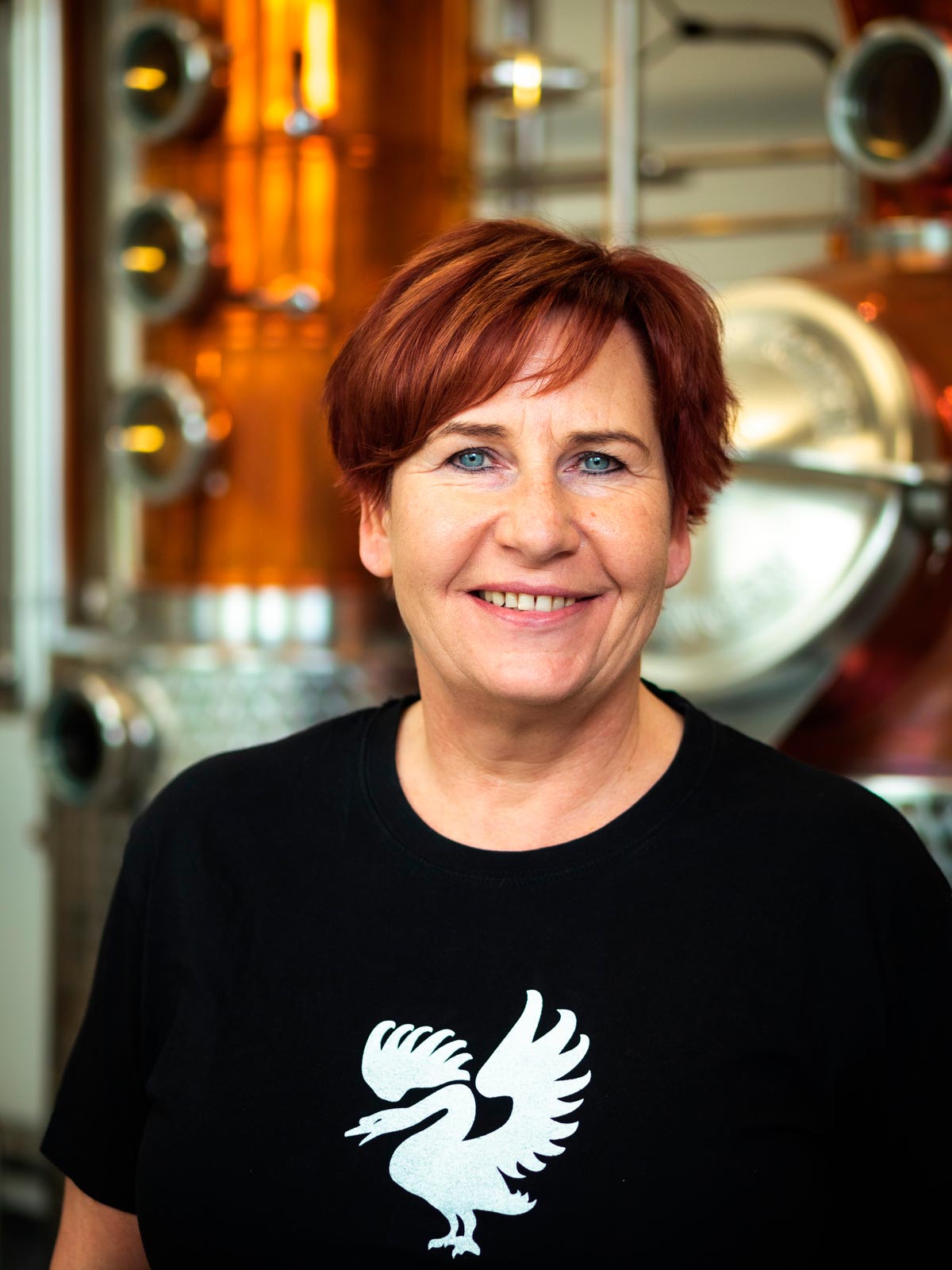 Claudia Ofner
Secretary & Administration
---
+43 3465 20 800 11
office@distillery-krauss.com
Claudia is our good soul and problem solver who always ensures that everything is well organised and neat. Since March 2018, she has been the one who answers the most calls, answers most of the emails and makes sure that there are no schedule clashes. She is in charge of the situation in the secretariat and accounting departments and creates our delivery orders and invoices.
Favourite drink: Vermouth 700 with Ginger Ale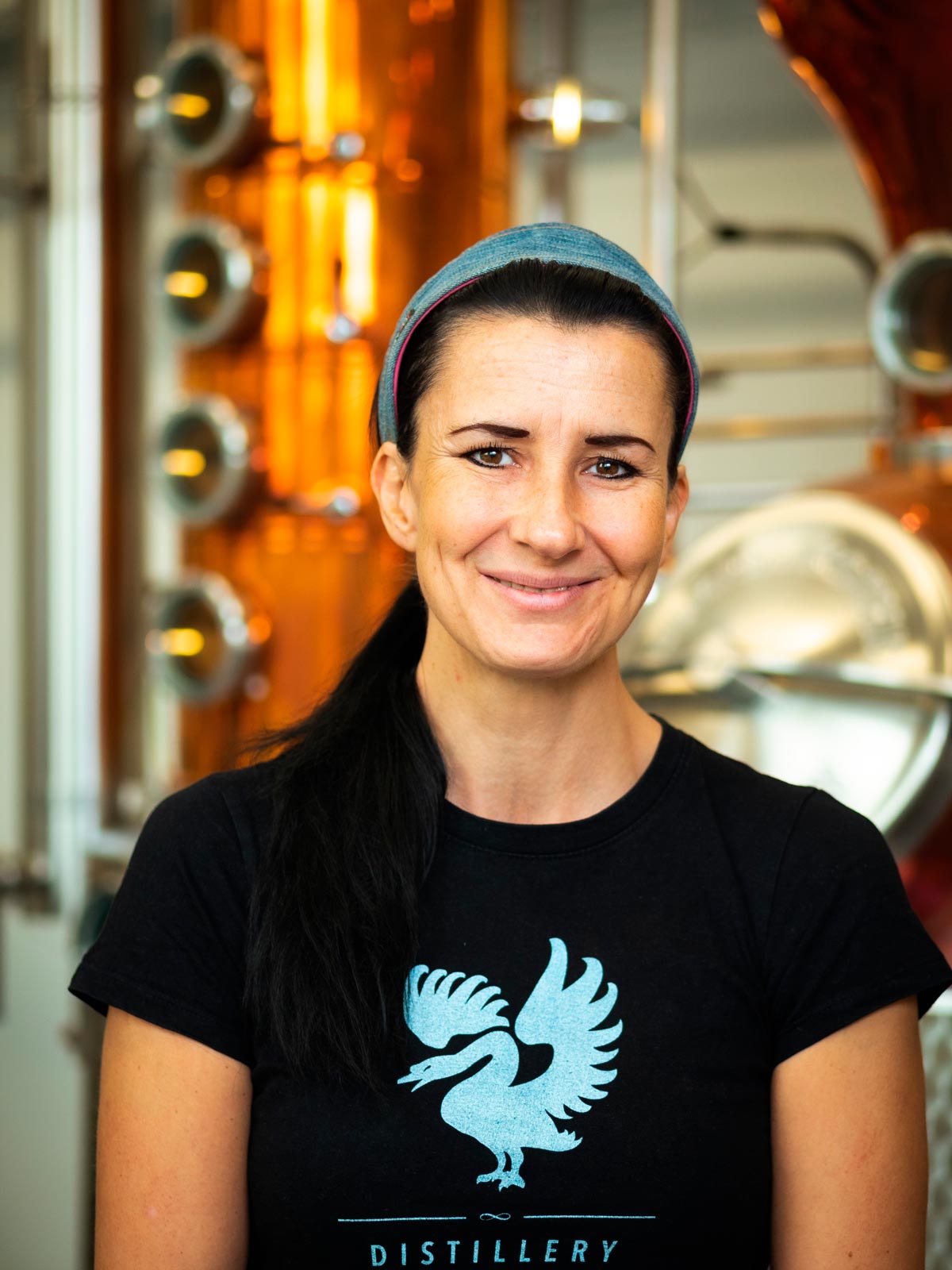 Claudia Ulbl
Warehouse
---
+43 3465 20 800
office@distillery-krauss.com
Claudia has been looking after our warehouse since October 2017 and also helps in the distillery. She packs postal deliveries, ensures that all products are available in the sales room and ensures cleanliness and order in the company.
Favourite drink: Raspberry Liquer
History
---
We owe the origin of today's Distillery Krauss to our mutual love for fruit. It has always been clear to us that we, at least as a hobby, wanted to do something with fruit.
After the unsuccessful search for leased areas and the attendance of a 2-day distilling course, the garage was converted into a distillery in 2007. At that time, we first specialised in high-quality brandies (the top class of distilling) and every euro earned was immediately reinvested in new fruit and equipment.
From the off, we repeatedly submitted our fine brandies to renowned tastings to see how high the quality of the brandies was. The results were clear: numerous gold medals at the Styrian state tasting, "Newcomer of the Year 2010" at Destillata and second place in the World Spirits Award 2011.
Although the focus is still on diversity, innovation and excellent quality, a lot has changed in the distillery: We are now a team of 7 people and the entire team has moved from the garage in Schwanberg to a new distillery in Sankt Martin im Sulmtal. As far as the assortment is concerned, we are no longer only specialising in fine brandies, but additionally 7 different types of gin, rum, whiskey, liqueurs and even vermouth.
---
Awards
---
From the beginning it was important to us to take part in tastings in order to be able to assess where we stand with our products from a quality perspective. For the first few years we took part in the Styrian state tasting and many of our products were awarded gold medals. We soon dared to take part in the World Spirits Award, one of the most renowned tastings in all of Europe, where we achieved second place overall in 2011.
In total, we have won numerous national and international awards; over 100 double gold and gold medals. Including 5 "Spirits of the Year" at the World Spirits Award and the "Gin of the Year" at the China Wine and Spirits Award. However, the most surprising and forward-looking award was the double gold medal for our first gin in 2015 in San Francisco.
Here you will find a list of the most important awards in recent years
Steirische Landesverkostung for Fine Brandies 2008 - 2012:
43 Gold Medals
World Spirits Award 2011-2014
11 Gold Medals for fine brandies
Falstaff
93 points for G+ Classic Edition Gin (2015)
94 points for G+ Saffron Edition Gin (2015)
95 points for A++ Anis (2015)
San Francisco World Spirits Competition 2015
Double Gold for G+ Classic Edition Gin
San Francisco World Spirits Competition 2016
Gold for Cider Brandy
Berlin International Spirits Competition 2017
Gold for Cider Brandy
World Spirits Award 2017
2x World-Class Distillery
Distillery of the Year Gold (Gin)
Distillery of the Year Bronze (Fine Brandies)
Double Gold and Spirit of the Year for G+ Flower Edition Gin
World Spirits Award 2018
2x World-Class Distillery
Double Gold and Spirit of the Year for A++ Anis
Double Gold for G+ Classic Edition Gin
Double Gold for G+ Flower Edition Gin
Double Gold and Spirit of the year for Strong Spirit Pomace Brandy
Gold for RUM by Krauss, G+ Oak Cask Edition Gin, G+ Lemon Edition Gin, G+ Tangerine Edition Gin, Riesling Grape Brandy, Strong Spirit Cherry Brandy
China Wine & Spirits Awards 2018
Double Gold and Gin of the year for G+ Tangerine Edition Gin
Double Gold for G+ Classic Edition Gin
Double Gold for G+ Flower Edition Gin
Gold for G+ Oak Cask Edition Gin

San Francisco World Spirits Competition 2018
Double Gold Hazelnut Spirit

World Spirits Award 2019
Distillery of the Year Gold (Gin)
Distillery of the Year Bronze (Fine Brandies)
2x World-Class Distillery
Double Gold and Spirit of the year for G+ Saffron Edition Gin
Double Gold for Kronprinz Rudolf Cider Brandy
Gold for G+ Classic Edition Gin, G+ Oak Cask Edition Gin, G+ Flower Edition Gin, G+ Tangerine Edition Gin, Strong Spirit Cider Brandy, Strong Spirit Pear, Strong Spirit Peach

China Wine & Spirits Awards 2019
Double Gold for Ginseng Dry Gin
Double Gold for Cider Brandy
Gold for G+ Classic Edition Gin
Gold for G+ Flower Edition Gin